This is another payment APP, Chinese people used most. And it's only one of the critical function in WeChat, developed by Tencent, another unicorn in China. The Chinese have enter the era of electronic payment rather than carring cash, and even the tradition of red envelopes is also distributed online. updated on 2019-09-22 06:01:41.
WeChat (Chinese: 微信; pinyin: Wēixìn; literally: 'micro-message') is a Chinese multi-purpose messaging, social media and mobile paymentapp It was first released in 2011, and became one of the world's largest standalone mobile apps in 2018,[8][9] with over 1 billion monthly active users.[10][11][12] WeChat has been described as China's "app for everything" and a "super app" because of its wide range of functions.
Setting up WeChat Pay
Unfortunately, at this time, you can only top up your WeChat balance with a Chinese bank/credit card. Although WeChat will allow you to add a foreign Visa or MasterCard number to your account, this is solely for verification purposes and you will not be able to use this card to pay for things in China or add money to your WeChat balance.
Not to worry, though; there is another way! The first hurdle is enabling the WeChat Pay function on the app. For those who download WeChat with a Chinese SIM card, this option should automatically appear on your WeChat profile under the "Me" tab. Here is what your profile page will look like once WeChat Pay is enabled: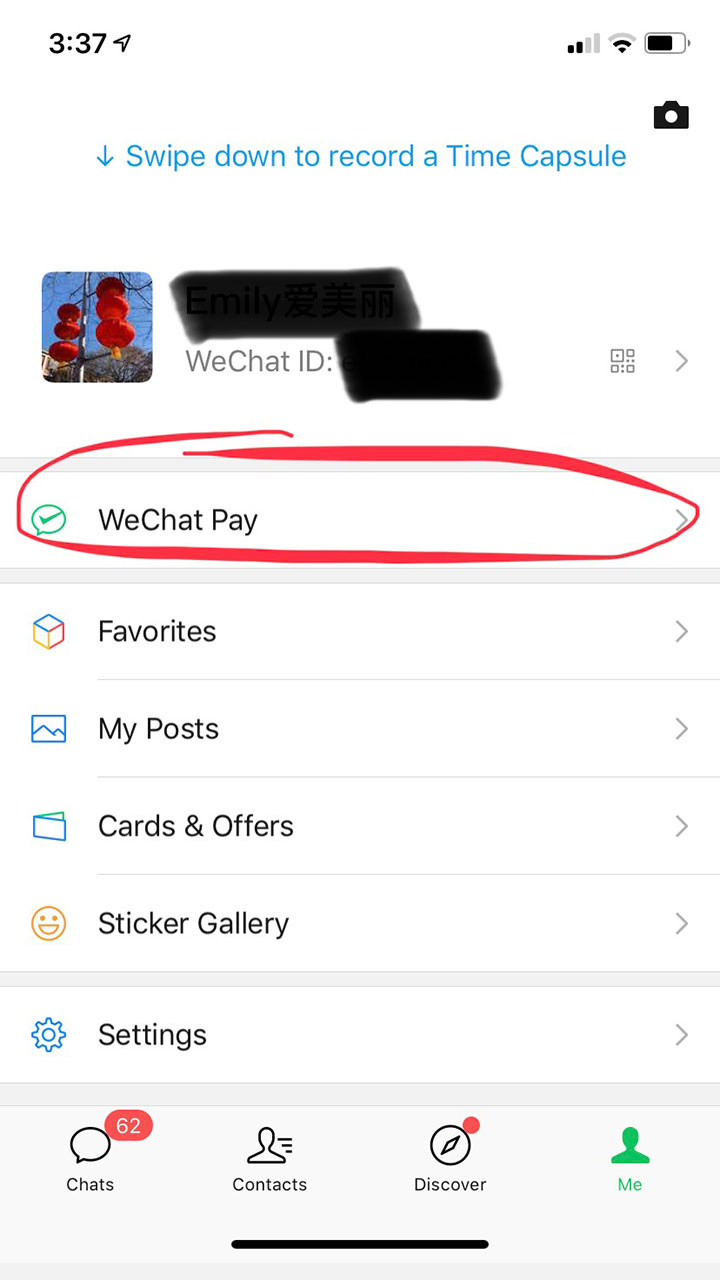 Those who download the international version of WeChat from their home country, however, may not see the WeChat Pay option on their homepage. Whether or not the WeChat Pay function appears, in order to use it you will need to have one of your WeChat friends (who already has WeChat Pay set up) send you a "red packet," which is basically a direct transfer of funds. It looks like this: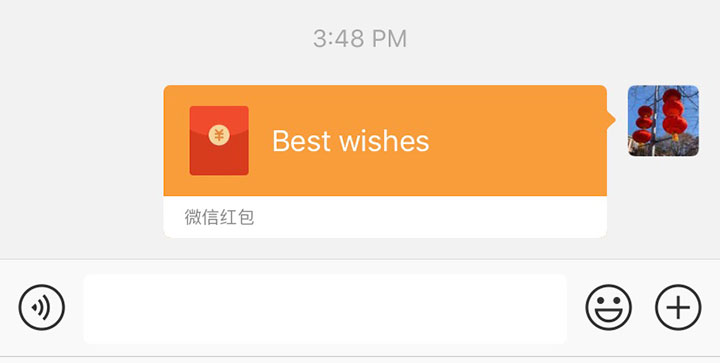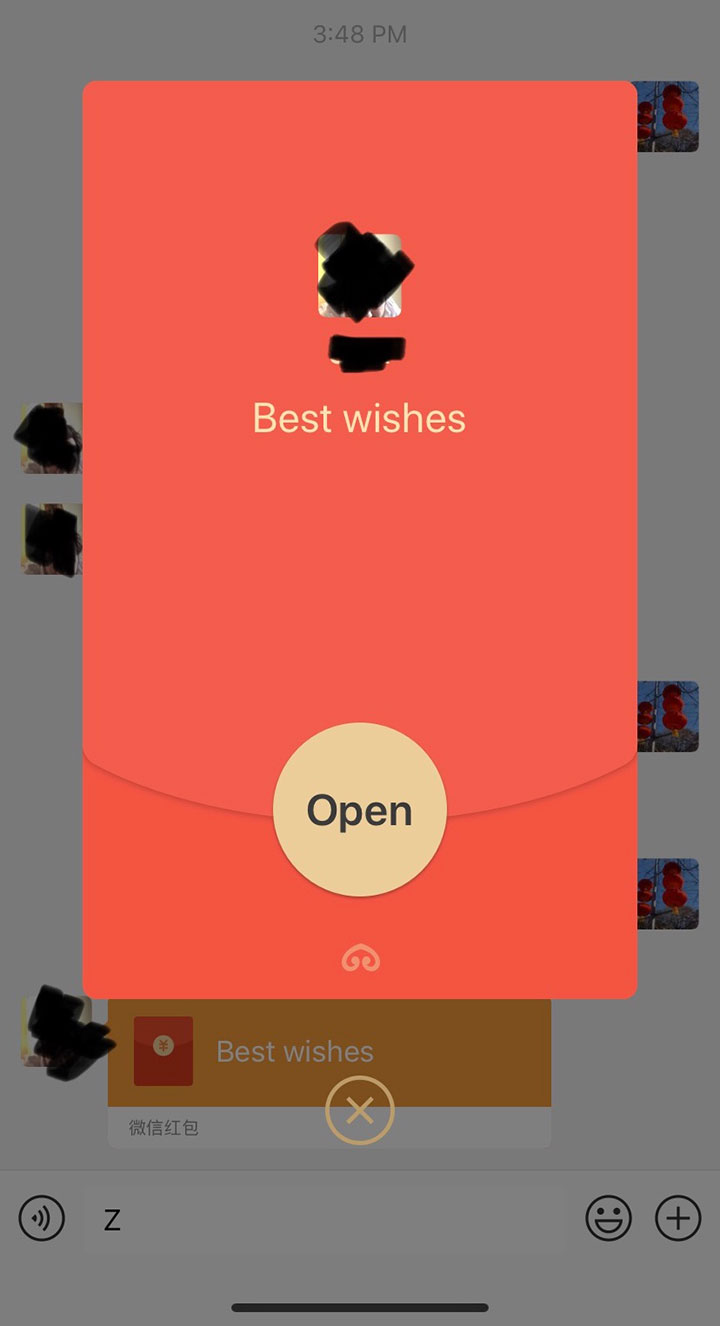 Simply click on the red packet and click "Open" to accept the transfer.
Receiving a red packet will put some money in your WeChat balance, and the WeChat Pay function should appear on your profile, if it isn't already there. You will then be able use this balance to purchase things via WeChat Pay!
At some point during this process, you will be prompted to set up a 6-digit PIN of your choice—be sure to remember it, as you'll need to enter it whenever you make a payment.
If you are on one of our tours, your guide or travel specialist can send you a red packet and help you set up WeChat Pay.
How to pay for things using WeChat Pay
The easiest way to pay for something is to click on the little "+" icon in the upper righthand corner of the main "Chats" page: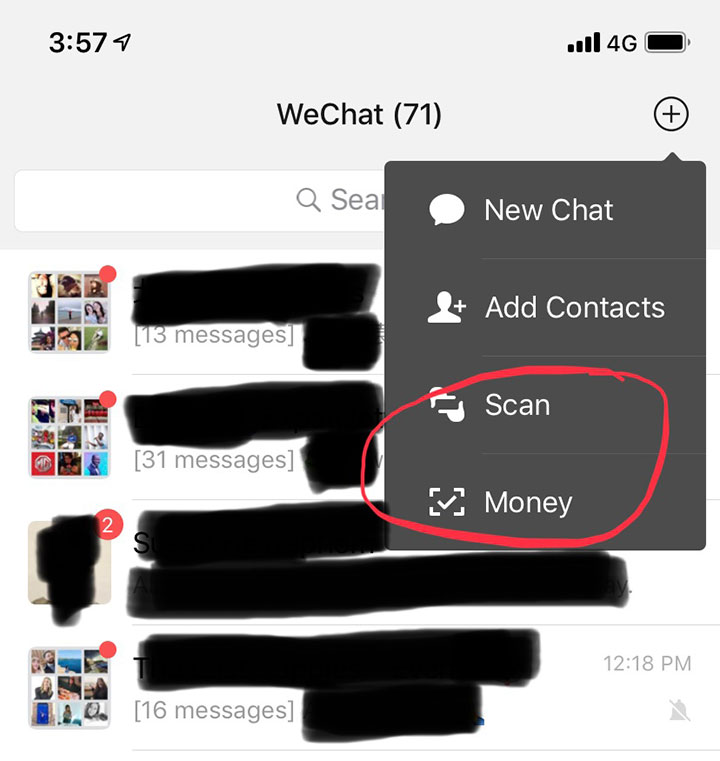 From this menu, you will select either "Scan" or "Money," depending on how you'll be paying. At some businesses, the cashier will scan your QR code, in which case you will select "Money." Elsewhere, you will need to scan a QR code at the cash register, which requires selecting the "Scan" option.
You can also access the "Money" option by clicking on WeChat Pay from your profile page.
Summary
Author Rating
Software Name
Operating System
Software Category
Price
Landing Page